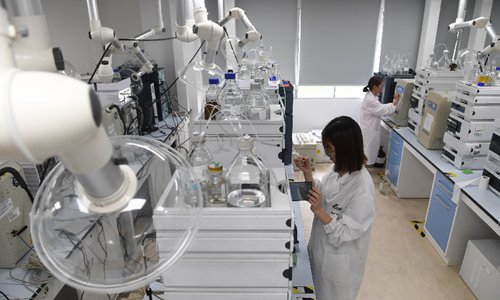 A staff member of a pharmaceutical company assesses the quality of a medical product in Nanjing, east China's Jiangsu Province, June 24, 2019. (Xinhua/Ji Chunpeng)
China's National Medical Products Administration (NMPA) concluded Thursday that there were serious adverse reactions to phenolphthalein tablets and lozenges after a post-marketing evaluation, and decided to stop the production, sale and use of these products in China, and the drug registration certificate will be canceled from now on.
Phenolphthalein tablets and lozenges that have been sold on the market shall be recalled by the manufacturer, and the recalled products shall be destroyed under the supervision of the drug regulatory department where the manufacturers are located, the NMPA said in a report on Thursday.
Industry insiders embraced the new stipulation and said corresponding measures have been taken.
A marketing manager surnamed Su at Shanxi Hengruida Pharmaceutical Co told the Global Times that a lot of customers had phoned him to ask for the phenolphthalein medicine.
"We got the notice from the National Medical Products Administration today to stop selling phenolphthalein medicines and to recall it because of side effects," Su said.
Su said that his company is planning to recall the medicine, but that it might still be available in some pharmacies.
Phenolphthalein tablets, a stimulant laxative, are commonly used to treat intractable constipation or to cleanse the intestines before colonoscopy. Some people also use it as a weight loss pill, media reports said.
While many producers immediately halted production of the drug after receiving the government notice, others stopped producing it years ago, as the market has shrunk.
A manager in the supply and marketing department of Zhejiang Dongri Pharmaceutical Co surnamed Feng told the Global Times that they got the notice from authorities concerning the ban and expected little overall impact on their business. "We already stopped the production of phenolphthalein medicine due to its low profit," said Feng.
A source with Beijing Zhongxin Pharma surnamed Li also told the Global Times that they are no longer producing phenolphthalein tablets, because there was hardly any demand for them.
"Doctors are not prescribing this drug, which is one of the major reasons for the drop in orders," Li said.
"This is a very old laxative that we haven't used clinically for at least 10 years," Beijing News quoted a doctor in a gastroenterology department of a local hospital in Beijing as saying on Thursday.
Some countries recalled the phenolphthalein tablets years ago because it had been found in animal studies to cause cancer, although there was not enough evidence that this also applied to humans, media reports said.
As of Thursday afternoon, the Global Times found that products related to phenolphthalein tablets and lozenges could no longer be found on major online platforms such as Taobao and JD.com.